I ran into an issue the other day trying to assign the usual service profile to a couple new B200-M5 blades that were purchased and historically, these would be equipped with SD cards for the OS install. As you might have heard, VMware will no longer be supporting SD cards for vSphere in the future though, so we made sure to select the M2 Disks Controller (RAID1) with this build instead.
First thing I did was clone the current service profile, since I did not want to change anything else other than the disk configuration and boot order for these blades.
After cloning, I went into the new service profile and started selecting Storage > Storage Profiles > Controller Definitions > Add
Name: (doesnt matter, here I selected NO_RAID)
Protect Configuration: selected
RAID Level: No Raid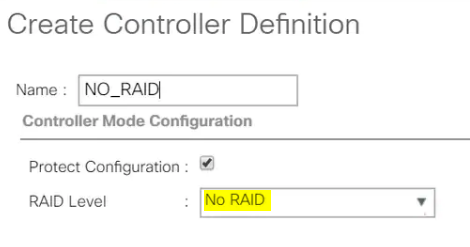 Next step is to create a new BIOS policy. On the same Service Profile select Policies > BIOS Policy > Create BIOS Policy
Change the P-SATA mode from Platform Default to AHCI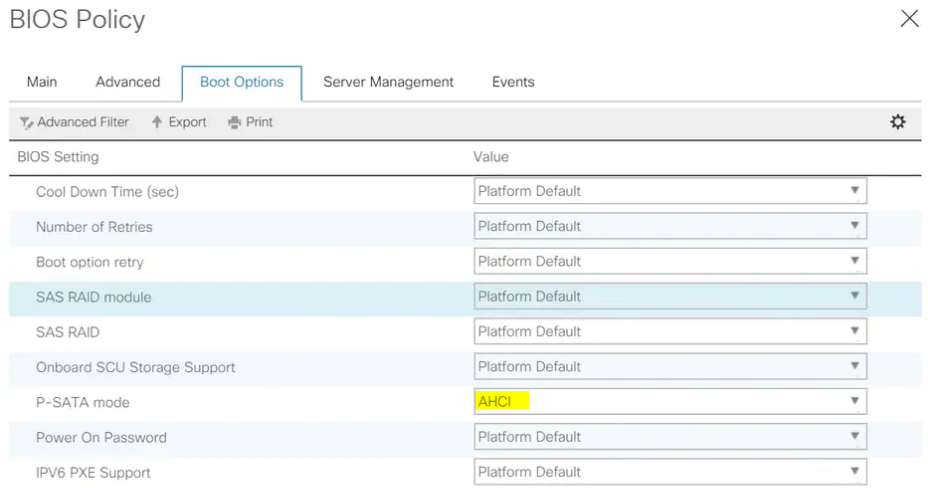 Now go to Boot Order > Modify Boot Policy > Create Boot Policy
Set the Boot Mode to UEFI
Select Add CD/DVD
Select Add Embedded Local Disk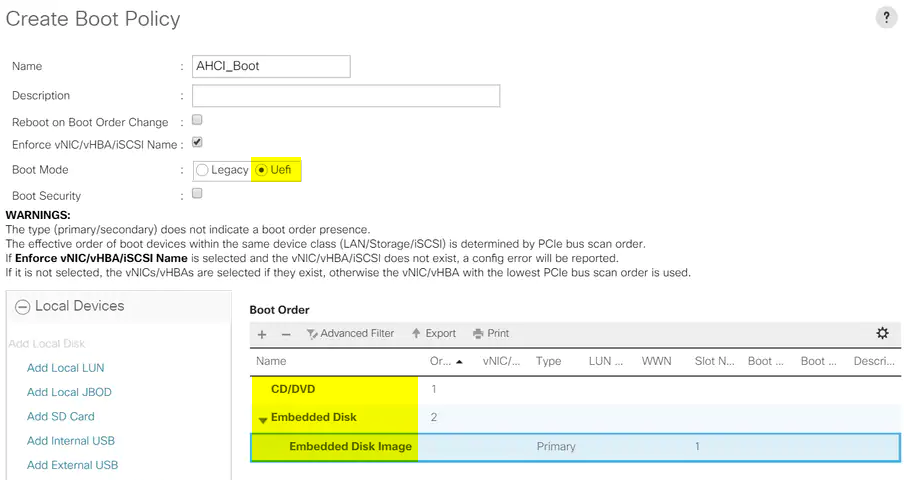 Now select the Embedded Disk Image and select Primary

Now proceed to specify the following UEFI parameters
Boot Loader Name: BOOTx64.EFI
Boot Loader Path: \EFI\BOOT
Boot Loader Description: VMware ESXi

After following all the instructions provided on the Cisco KB (link at the bottom), I was still running into an issue applying this "new" service profile to the new blades. Error included Local Disk config failure and there is not enough resources overall. So I checked the Disk Configuration Policy and after several different attempts I was able to get it to work.
That Local Disk Configuration Policy that I ended up using included the following settings:
Mode: Any Configuration
FlexFlash State: Disable
FlexFlash RAID Reporting State: Disable
FlexFlash Removable State: No Change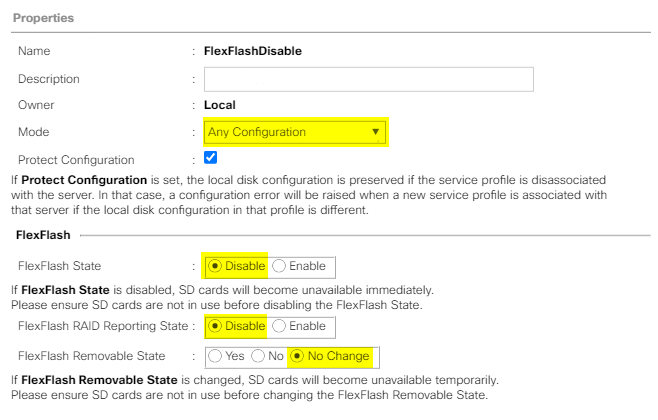 And that was it! That last Local Disk Configuration Policy was the missing piece for applying that new service profile to the new equipment ordered. Not going to lie, it took me way longer that I expected to figure out where the problem was, which is one of the reasons I decided to write this blog and possibly save some time and frustrations to other people in the same situation I was in. Hope you found this helpful!
Official Cisco link here