Did you miss the Pure Storage launch event this week? It's okay, so did I, however, I was able to catch up on the new FlashArray model announced, the //XL130 and //XL170! I mean who doesn't want faster performance for their most intensive workloads?
PCIe 4.0 allows the the throughput of these 2 new units to almost double (20GB/s vs. 36GB/s)
New generation CPUs (Intel Ice Lake). 50% more cores on the //XL130 and 100% more cores on the //XL170
4x Power Supplies in a N+2 configuration (Tier 0, 99.9999999% uptime anyone?)
The new unit does take 5U instead of 3U for cooling reasons, however, that seems like a small price to pay for the added performance boost! Plus at the end of the day, you will still be able to reduce the physical footprint since the density is greater as your data continues to expand.
Combine all those improvements with their unmatched data efficiencies (I still have yet to see a single customer get less than 4:1 true efficiencies, not even taking into account thin provisioning), safemode snapshots (protection against ransomware), Pure1 simplified management/analytics accessible from anywhere (even your phone!), continued innovation included with the Evergreen program, top tier support, white glove treatment upgrades and so much more! Seems like the logical choice for high performance and resiliency 3-tier architecture to me at least.
"Run business-critical apps, such as SAP HANA, Microsoft SQL Server, and Oracle, faster than ever. DirectFlash® Modules with Distributed NVRAM lift the limit on write throughput and reduce read latency to as low as 150µs, driving up to 20% improved density." copied from Flasharray's official site here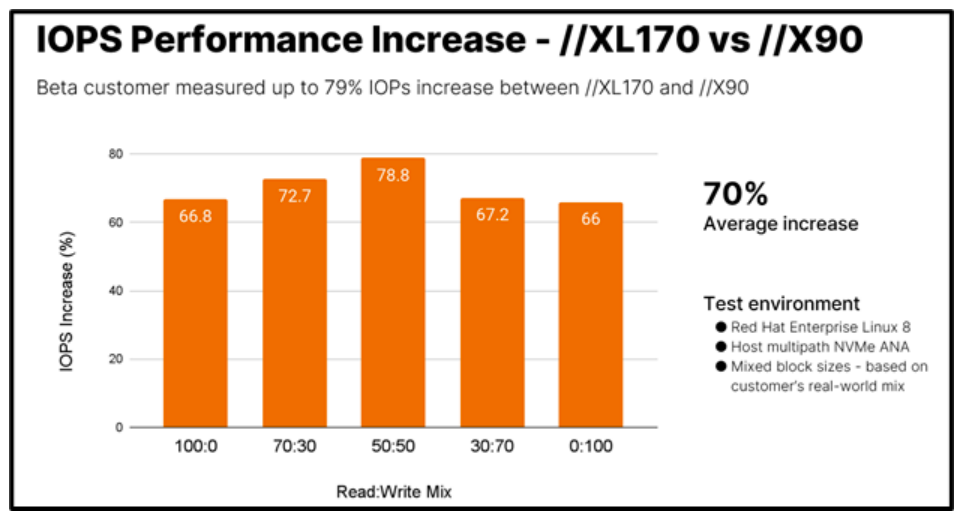 Looking to get a feel for it? Test drive it yourself here!