Tanium is the smart phone of security and cyber hygiene. If we did not know any better, we would still be be using an actual camera to take pictures, or a calculator to solve math equations, or a stop-watch to measure time, or strictly cash to pay, etc (you get the point…). But in reality, why would you purchase/carry all those items when you can already do that all from your smartphone? That is exactly what Tanium is…an agent that handles all tasks on each device, and combines all those features into a lightweight agent that can be installed without having to even reboot the systems.
For example, are all your assets accounted for? Are they all being protected? Are they all being patched, including third party software? Are you sure the desired configuration is being enforced throughout the environment? Are you meeting your compliance requirements? Are you able to provide accurate reports to management whenever they ask for them?
Most likely, you are still leveraging separate tools for most tasks below, which is okay…as long as you have access to a huge budget to pay for each tool separately, hire extended staff to maintain/support each one, and miss out on the ability to cross-reference that same data for multiple purposes.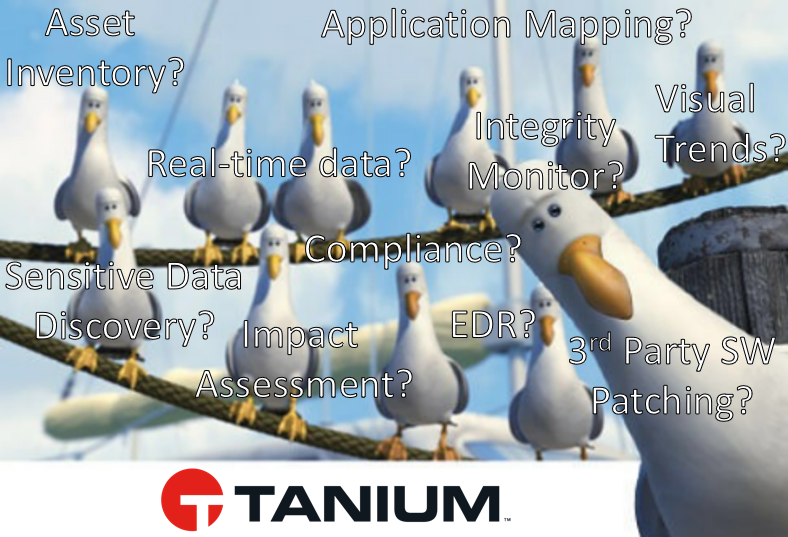 The way that Tanium gathers the data is also different from all other tools too. Tanium is able to use one agent per subnet as the proxy, and collect all the information from each subnet using that device. Why? Because it saves a ton of network traffic/latency by avoiding having each endpoint reporting directly. Genius, right? I think so, specially after you witness how quickly the data is collected real time on the console.
If you have not seen a demo of this product yet, please reach out and I can show you the basics. I will tell you that the demo is usually the icing on the cake though. Once you see the agility, simplicity, functionality that you can have access to by simply installing an agent, it is hard to go back and continue to be okay running those silo'd, and complicated systems.
Official link to the Tanium Platform here.
Some of the features that are available below:
Asset: Hardware and software inventory and usage tracking.
Comply: Vulnerability management and configuration compliance.
Deploy: Operating system and application installation, update and removal.
Discover: Unmanaged hardware and software discovery.
Enforce: Policy configuration management.
Integrity Monitor: Operating system, application and log file monitoring for compliance.
Map: Application component, dependency and relationship mapping.
Patch: Operating system and application patch management.
Performance: End user experience management.
Reveal: Sensitive data discovery and management.
Threat Response: Threat detection, investigation and response.