Have you upgraded to ESXi 7 update 2 yet, or at least considering to do so? If you have, and you are levering vSAN, then you probably noticed a disk format warning that suddenly appeared there. Good news is that the fix can be applied without any downtime by simply upgrading the disk format version online. If you are upgrading from on-disk format version 3.0 or higher, no data evacuation is required (metadata update only). If you are still running on disk format version 1, then unfortunately you will not be able to upgrade to ESXi 7 update 1 or higher till you upgrade the disk format version on the disks.
More information on disk format versions and compatibility on this link here
So what does the warning look like? See below (Cluster > Monitor > vSAN > Skyline Health > Disk format version)

How do you resolve it? Simply click on the "Detailed vSAN disks format status" tab, and then "Upgrade on-disk format". Confirm that you want to start this tasks and proceed to upgrade the disk version.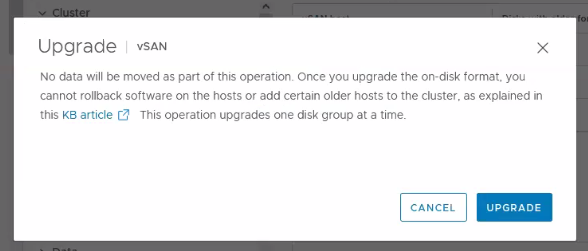 You will notice on a new vSAN Cluster task will be started on the task bar, and you can monitor the progress there. In this particular case, the cluster is very small, only 3 hosts and 2TB of data utilized. The process only took 5-8 minutes to complete. The best part is that there is no capacity data movement when you execute this process, only the metadata is touched.

After the task completes, you can re-test the vSAN health and the warning should now be resolved.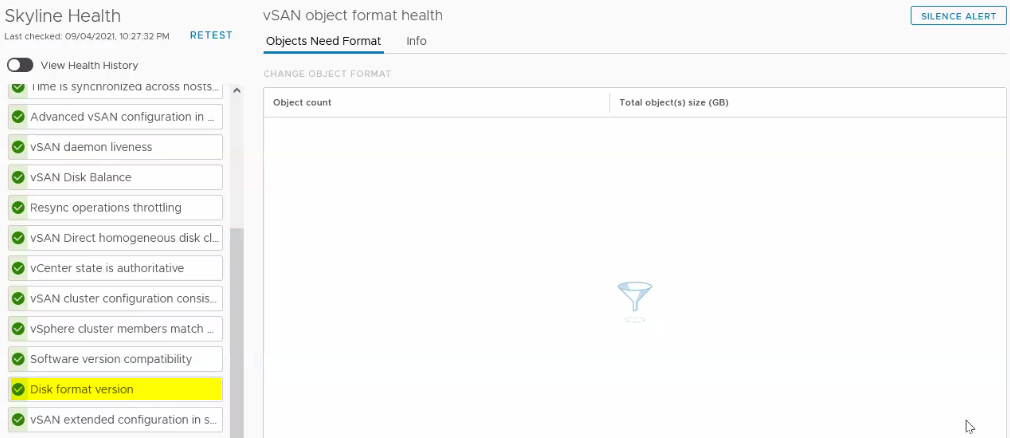 That is it! At this point you should be running ESXi 7 update 2 with all vSAN warnings resolved.