Have you ever heard the word "layer" followed by a single digit number thrown around and have no idea what that even means? Well, you are definitely not the only one. At one point I did not know either, and had to this cheat sheet below from time to time.
To keep it simple, I am going to summarize my definition of the 4 TCP layers below.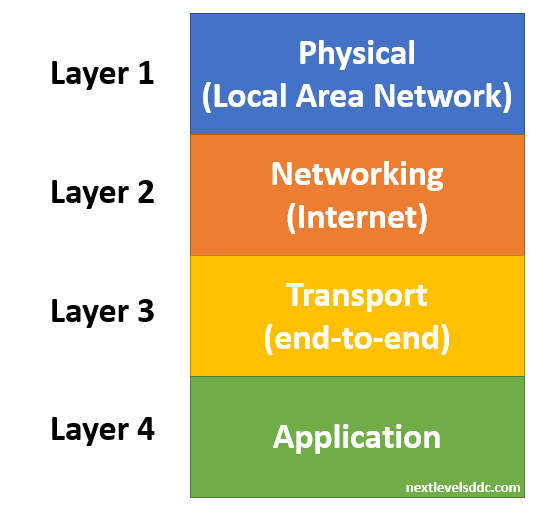 Is the data kept locally within the switch/subnet? Local Area Network without access to the Internet?
Sample terms: hardware, physical cabling, switches, hubs, fiber
That's your

Layer 1
Does the data need to cross multiple switches? Needs assistance from a router to get there? Internet?
Sample terms: Packets, IP, ICMP, ping, IPSec
We call that

Layer 2
How about end to end transportation/connections? Host to Host? Host to Storage? VM to VM?
Sample terms: TCP, UDP, Error checking, Segments, Flow Control, QoS, MTU
This is

Layer 3

, yep, you guessed it right!
Are your users converting the data into a graphical visualization? Web UI? Pictures? Videos? Voice?
Most user interactions end up in this layer, including web browsers and internet applications (email, zoom, facebook, etc)
Here the data is formatted, converted, encrypted, decrypted, compressed, decompressed and presented to the user.
Sample terms: API, SSL, Sockets, Winsock, SSH, IMAP, FTP, HTTPS, DNS
Last but not least,

Layer 4
Hope this cheat sheet is helpful for you to understand a bit better what the heck some people are talking about when you hear that word again. If I missed anything (most likely since I am not a networking guru) feel free to leave a comment below.