Multi-cloud, Tanzu, Edge, AI, Software defined memory, SmartNICs, ZeroTrust Security, VMC on AWS Outposts…all part of the biggest announcements this year. I am going to try to write a quick summary for each announcement below.
VMware is putting a lot of effort and focus on multi-cloud. If you watched the keynote, then you might have noticed that a lot of the information shared by VMware's CEO, Raghu Raghuram was around that topic. He mentioned that "Multi-cloud is the digital business model for the next 20 years, as entire industries reinvent themselves,". He also shared his thoughts that "It's no longer about a "cloud first" approach. It is about being "cloud smart". With our cloud-agnostic approach, we are uniquely positioned to meet our customers where they are and take them where they want to go. We give every organization the power to accelerate their innovation and control their own destiny in the multi-cloud era."
Below is a really funny video published by the VMware Cloud team demonstrating how VMware can make multi-cloud a reality today. Simply remember that it is no longer a virtual machine conversation, the focus is on the application itself now.
Tanzu community edition is now offered at no cost so everyone can start getting familiar with it. This is going to be VMware's framework for modern applications and it is here to stay. It was announced that Tanzu will be offered as part of VMware cloud and also at the edge.
VMware Tanzu Community edition link here
VMware Cloud with Tanzu services link here
VMware Edge Compute Stack was unveiled today as well. VMware will provide the full Software Defined stack with the addition of SD-Wan and Tanzu as well. "VMware Edge Portfolio Will Enable Organizations to Run, Manage and Better Secure Apps Across Near and Far Edge Locations". Dell and Lenovo both have out of the box offerings for this.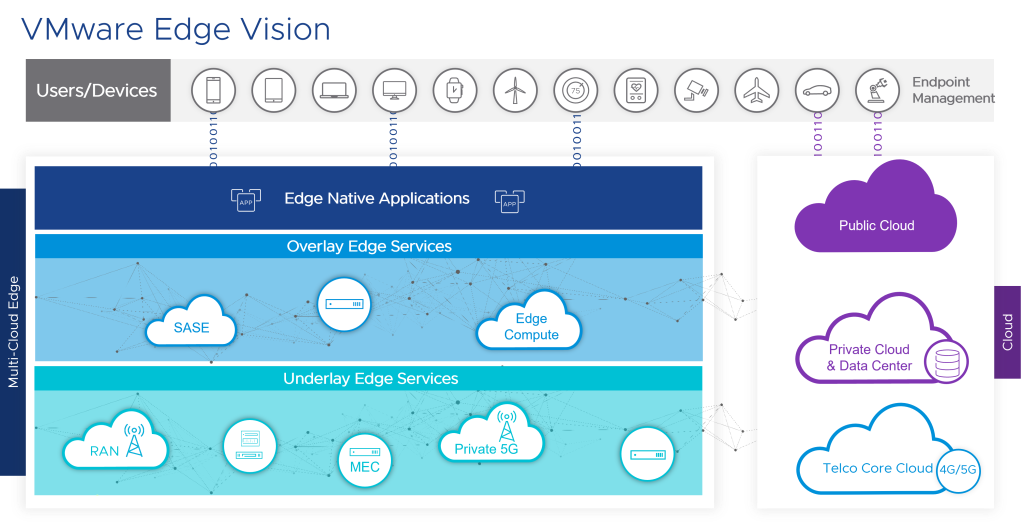 Lenovo's offering here
Dell's offering here
More information here
Software Defined Memory AKA Project Capitola
"Project Capitola is a software-defined memory implementation that will aggregate tiers of different memory types such as DRAM, PMEM, NVMe and other future technologies in a cost-effective manner, to deliver a uniform consumption model that is transparent to applications."
"Tight integration with ESXi memory management ensures that vSphere features such as Distributed Resource Scheduler (DRS) will work seamlessly across new and existing memory tiers."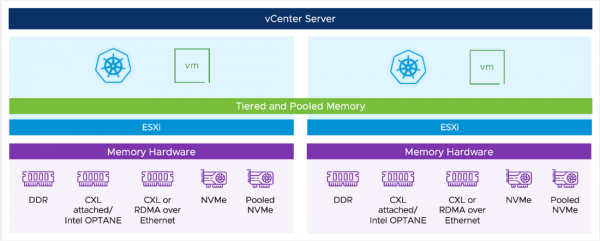 More information here
VMware Cloud on AWS Outposts is another big one. If you want to keep the same simplicity that VMware Cloud offers, but on-premise instead, then this announcement is for you. Ready to use infrastructure in days with plug and play installation. Single point of contact support offered by VMware combined with dedicated Amazon Nitro hardware. Seamless workload portability between VMware cloud instances whether it resides on-prem or VMware Cloud on AWS somewhere.
More information here
Project Artic and Project Cascade. What are they?
"Project Arctic will bring multi-cloud to the fingertips of vSphere customers, by natively integrating cloud connectivity into vSphere – making vSphere cloud-aware, and making hybrid cloud the "default" operating model. Millions of IT Admins who use vCenter on-premises will be able to leverage their domain expertise and benefit from expanded cloud capabilities."
"Project Cascade will provide a unified Kubernetes interface for both on-demand infrastructure (IaaS) and containers (CaaS) across VMware Cloud, Project Cascade will address the needs of developers and DevOps in a multi-cloud world. It will enable a true open multi-cloud with an industry standard programmatic interface that is powered by Kubernetes."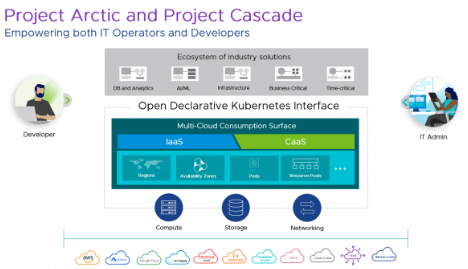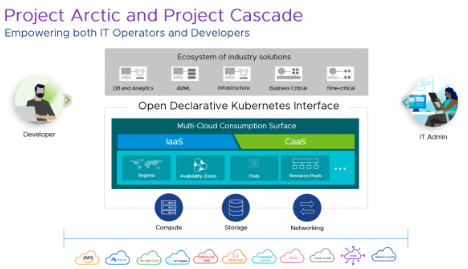 More information here
It is hard to talk about Artificial Intelligence without mentioning NVidia in the same sentence. VMware's partnership will integrate Tanzu with Nvidia's AI enterprise software in order to develop an AI-ready enterprise platform for IT developers.
"NVIDIA AI Enterprise and VMware vSphere with Tanzu enable developers to run AI workloads on Kubernetes containers within their VMware environments, leveraging infrastructure easily managed by IT. The software runs on mainstream, NVIDIA-Certified Systems from leading server manufacturers, providing an integrated, complete stack of software and hardware optimized for AI."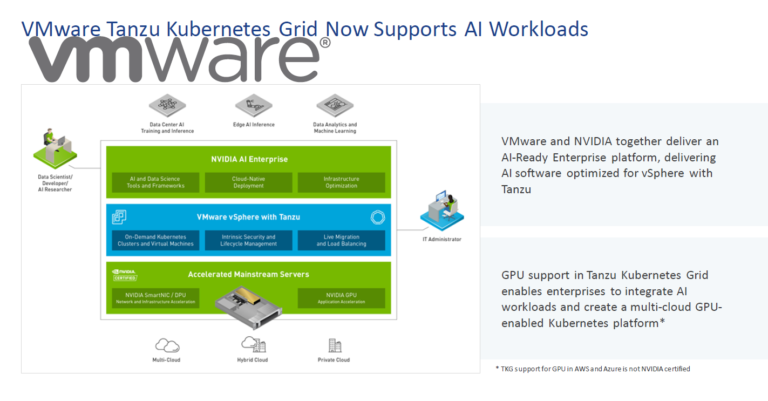 More information here
How about limited time, 15% savings on VMware Cloud hosts on AWS?
More information here
Any other announcements I may have missed? Please share them in the comments section below!
Disclaimer: all images used on this article are property of VMware