This week I configured my first Nutanix 2-node cluster and I wanted to share my personal experience during the process. First of all, I have deployed much bigger clusters in the past, but the tricky part here was the need for a virtual witness VM which I had never deployed in the past. To my surprise, it was extremely simple and there were zero gotchas.
First I unpacked all the equipment, mounted it on a desk, connected all the required cables and powered on the nodes. I had a monitor and keyboard nearby, so I went ahead and configured IPMI manually which took me a couple minutes per node, so I could have KVM access to the nodes in case in ran into any issues later.
To configure IPMI manually, you just need to press "del" during the boot sequence to access the BIOS setup, then select the IPMI tab and select to change settings. In this case, we assigned static IP addresses to keep it simple.
I also brought my own un-managed switch to avoid any type of network issues (IPv6 / multicast enabled, ports disabled, correct VLAN, etc…) which worked like a charm. I plugged in the nodes and my laptop to it, started Nutanix Foundations Portable and after selecting the initial settings (Type of hardware, subnet mask/gateway for hosts/cvm/ipmi, selecting local interface, etc). Less than 30 seconds later, both nodes were discovered.
Nodes Tab
Select both nodes, and assign desired IP addresses for IPMI, Host and CVM (I had manually configured IPMI already).

On the next page (Cluster Tab), you have to configure things like:
Cluster Name
Timezone
Redundancy Factor (RF2 or RF3)
Cluster Virtual IP (optional, but recommended)
NTP Servers
DNS Servers
Amount of Memory for CVM (ROBO nodes do not need 32GB, 12-16GB will suffice)
In the next page (AOS Tab), you can select the preferred version of AOS to use. Each factory node is going to come with AOS pre-installed, but you can always upload a different version (older or newer) if desired.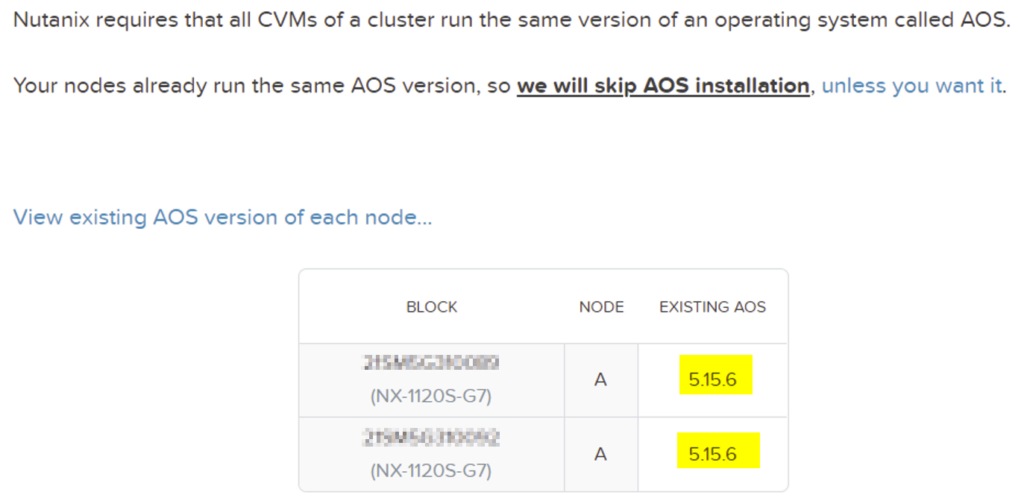 Next comes the Hypervisor Tab, where you can select if you want to install AHV or VMware ESXi on the nodes. In this case, the customer wanted to keep AHV to save money on the hypervisor cost, specially since he did not have any special requirements that AHV could not fulfill.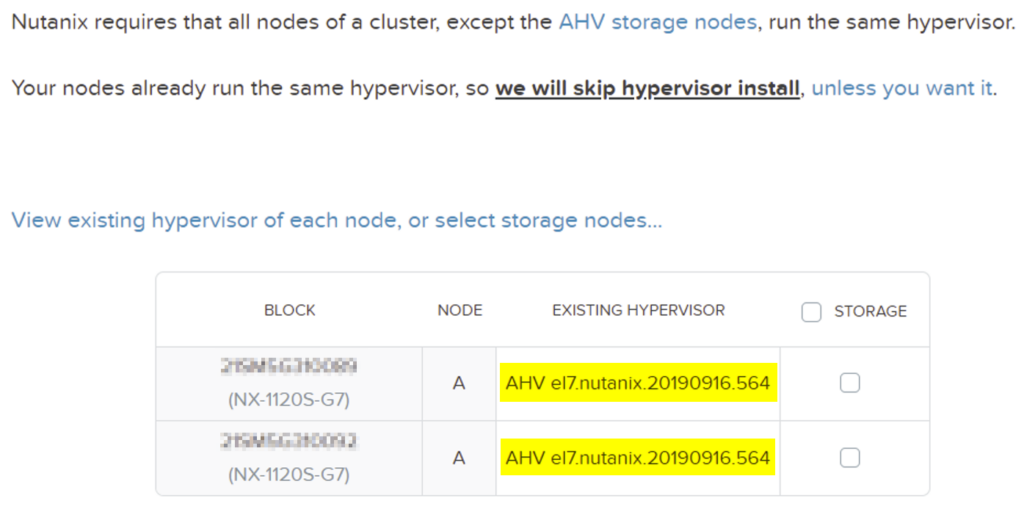 Next tab will be IPMI, which I had already pre-configured so there was nothing to configure here. If you had not configured it already, you can always provide the IP addresses that you want to use, along with credentials.
And that is it folks…next step is to confirm that you truly want a 2-node cluster and wait for the orchestration process to create a cluster using both nodes, using all the settings that were specific above.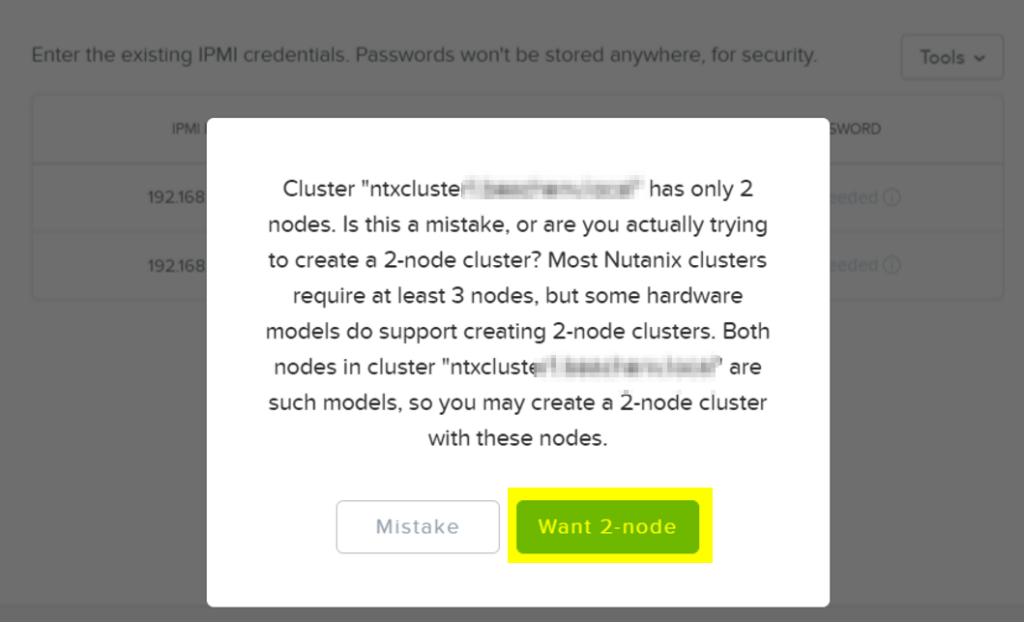 Sit back, catch up on emails for 5-10 minutes while the cluster is created. If you had selected ESXi as the hypervisor, it would have taken a bit longer simply because it would have to format the node to install ESXi instead, but even then, it would not take longer than 1 hour to complete the entire process.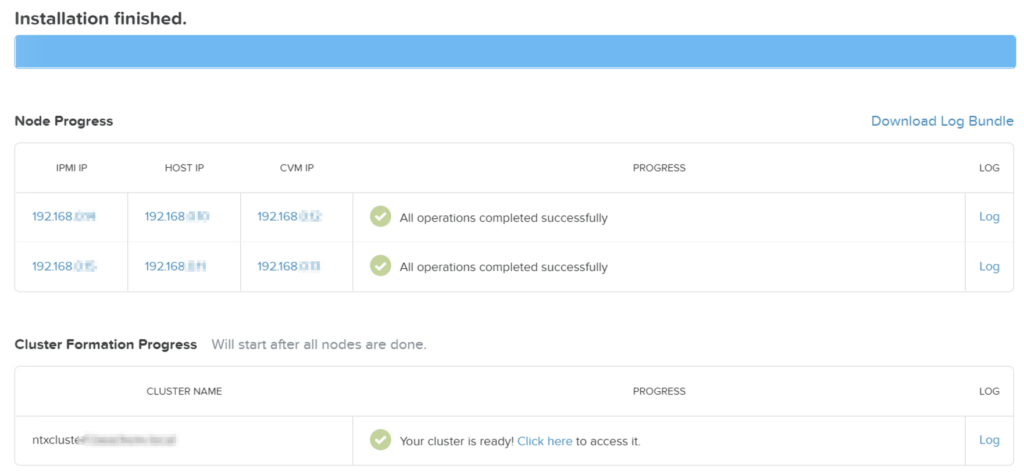 Once the cluster is ready, proceed to click here to access the Prism console.
Since this is a first install, you will need to accept the end user license agreement, specify contact information and choose to enable/disable Pulse (disabling is not recommend since support will be unable to receive any alerts from your cluster in that case). Once that part is done, you can then choose to add the virtual witness VM information, or you can skip it for now and configure later.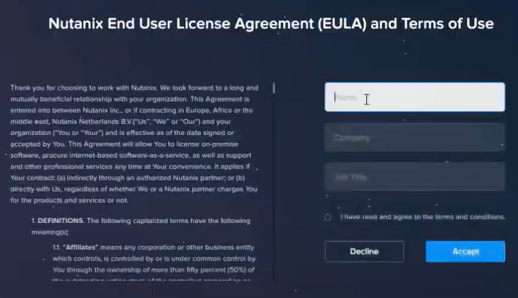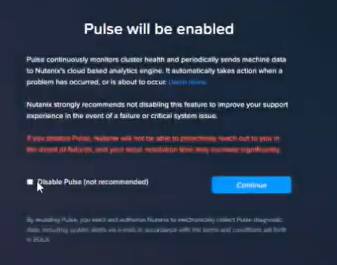 And that is it folks…I wish there was more content that I could share with you, but it really is just that easy!
Lessons learned:
Download the correct Witness VM version (has to be same version or higher than the AOS version on the cluster)
Deploy the Witness VM and configure the network settings ahead of time in a different failover domain
Make sure to change the default admin password on the Witness VM before configuring a cluster with it