Are you a VMware shop leveraging NFS Datastores for your VMs? Make sure to check out the vSphere 8 U1 release notes in case you are in the fence about upgrading. These connections are used on a round-robin basis and allow each vSphere host to increase the per datastore throughput. This new feature alone should be able to influence the upgrade decision.
Increased maximum number of NFSv3 datastores that can be mounted with multiple connections: Starting with vSphere 8.0 Update 1, you can configure up to 8 connections to NFSv3 datastores on an ESXi host (previously only one connection in earlier releases), and have up to 256 connections used by the NFSv3 datastores on the host, depending on the combination of the number of datastores and the number of connection configured for each datastore. Heard of nconnect before? This is basically what this new version of vSphere is using behind the covers.
For more information, see VMware knowledge base article 91481.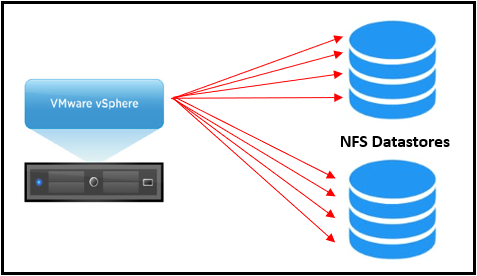 Official vSphere 8 U1 Release Notes here
William Lam detailed "how-to" blog here