This blog was started by an email one customer received regarding their SRM and vSphere Replication versions running on-prem. The VMware Cloud team sent an email out to remind customers that they need to upgrade the version of these 2 product by October, or the will fall in the unsupported category (oh noes!!).
VMware Cloud Team email: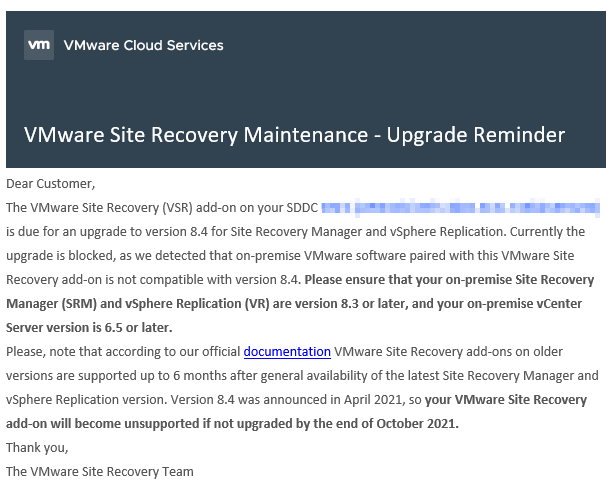 First thing we did, was validate which version of Site Recovery Manager and vSphere Replication we were running on-premise, which was in fact version 8.2 for both products so this is where the upgrade instructions start:
Login to the VMware customer portal
Download the ISO for vSphere Replication
Upload ISO to a datastore that is available to the vSphere Replication VM
Edit the Replication VM settings
Proceed with the warning
Expand Hard Disk 1 to 16GB (expansion will be executed after upgrade)
Mount the ISO to the CD/DVD Drive 1
Login to the VAMI / management interface for vSphere Replication using port 5480
https://vspherereplicationfqdn.domain.local:5480
Login with your credentials (root/password)
Go to Update > Settings and update the Repository to CDROM
Save Settings
Go to Update > Status and Check Updates
Validate that the right update you downloaded is available
I recommend to take a snapshot of the VM before you proceed to Install the update
After the snapshot is taken, proceed to Install Updates
Accept the EULA and Confirm you want to Install Updates.
The upgrade will start immediately and should take 5-10 minutes to complete
At this point, I open a remote console to the vSphere Replication VM to keep an eye on the version number
The VM will reboot automatically when the upgrade completes, however, there will not be a notification on the management interface. If you see the updated version on the console, then it means upgrade completed.
Login to the console with the root credentials
Extend the disk partition using the following command:
/opt/vmware/bin/extend_system_partition.sh
Configure a password for the admin account with the following command:
passwd admin
Login to the VAMI/management interface using the admin credentials
Re-configure vSphere Replication so it can tie back to the vCenter
Remove the VM snapshot previously taken
Enjoy the new version of vSphere Replication!